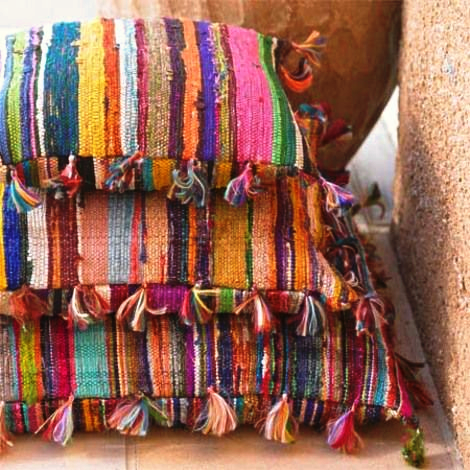 Certainly in your travels in Greece, but also more generally in the Balkans, cushions and carpets made of different fabrics that intertwine in an explosion of color will have caught your attention.
The kourelou (probably from the Latin cŏrĭum, which however indicates a weave of animal skins) is a sturdy carpet of rags that grandmothers used to compose with old fabrics and then used on the floor or on the sofa.
The kourelou is a humble object made from pieces of old and worn fabric. The word "rag" commonly evokes something negative or miserable: just think of the beggar wearing shabby clothes. Someone who is so sad or physically exhausted also feels ragged and tearing someone to pieces certainly does not mean doing them a favor.
However, the idea of ​​recovering something used to give it new life and and a different form is incredibly positive. There are also numerous artists, artisans and musicians who have re-evaluated the kourelou as a symbol of Greek cultural heritage, demonstrating how contemporary trends can intertwine with the tradition of the southern Balkans and give it new splendor.
The kourelou is light, colors, vibrations. It is fine craftsmanship with a strong local identity that nowadays is also expressed in accessories and bags decorated with traditional weaves and manufactured with local materials.
It is a small piece of authentic Greece you could give as a gift or keep at home with you to remember not only the blue, but all the shades of a country that we will never stop knowing (and loving) enough.

Source: sarantakos.wordpress.com
Pics: Pinterest / Fishome